Sitting down with Elin Matilda Andersson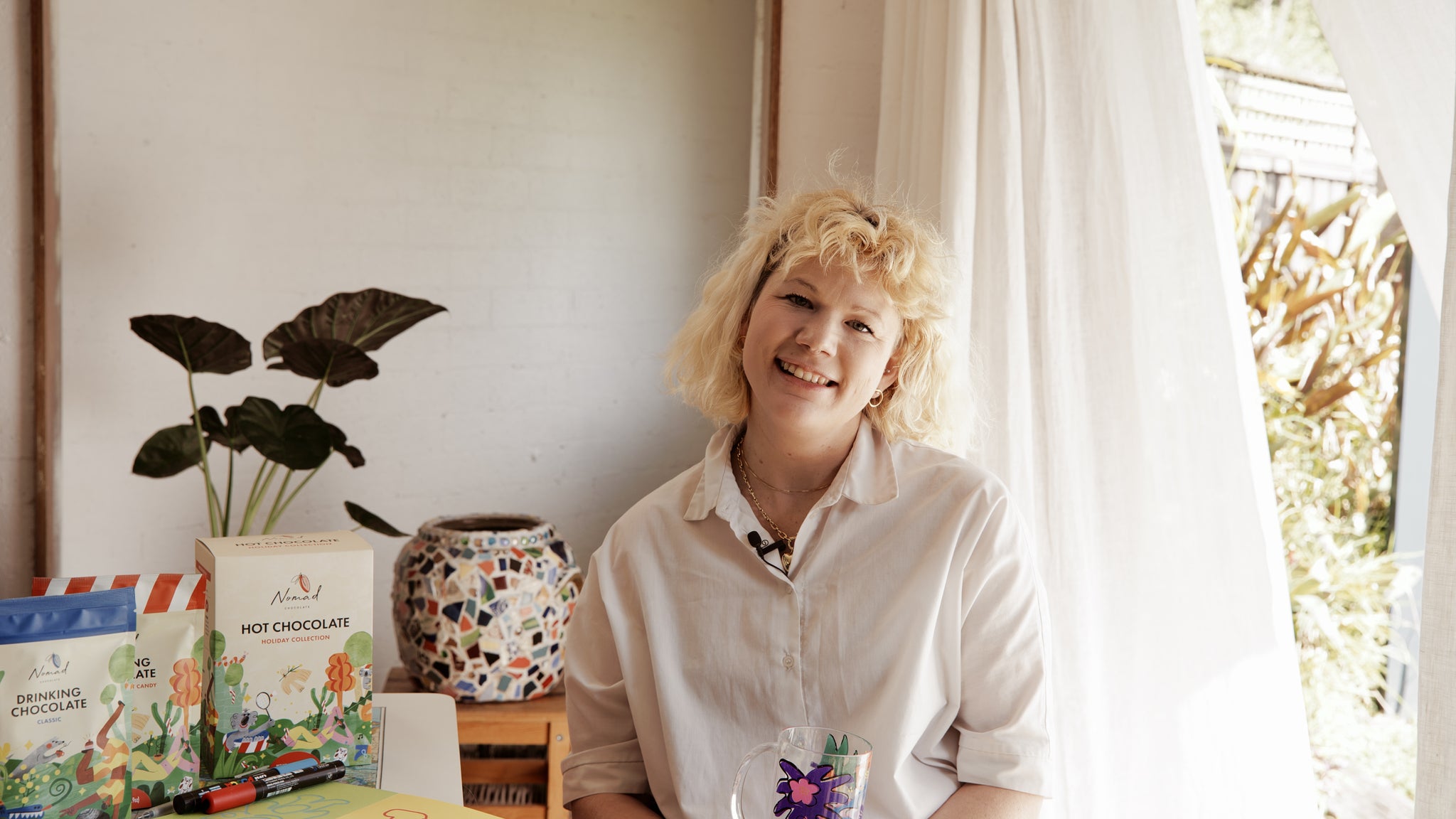 Elin Matilda Andersson is a Swedish-Australian artist, illustrator, and designer – and she is also Nomad Chocolate's latest collaborator!
In celebration of the Christmas season, Nomad Chocolate has created a limited edition Christmas Gift Box that collects all of your favourite holiday hot chocolate flavours. The Gift Box is beautifully encased in Elin's artwork, capturing Australian Christmas in all its glory!
We're very happy to have sat down with Elin to discuss her story, her work, and her favourite things about Christmas in Australia.

Tell us about your art style; who are your influences, 
My approach to art making is combining fun with purpose. I like turning things on their head to, hopefully, put a smile on someone's face. I think that the Scandinavian illustrators of my childhood, Tove Jansson, Olle Eksell, Ingrid Vang, helped shape my aesthetics in a big way. I also love Matisse's work. Other contemporary artists that inspired me lots back when I was a hopeful design student, and beyond, include Sac Magique (aka Robin Ellis), Marion Fayolle, Antti Kalevi, Petra Börner, Mari Kanstad Johnsen and Aino-Maija Metsola.
What was your approach to designing for Nomad?
My work with Nomad was all about celebrating the fun-filled silliness of a hot Australian Christmas!
You've lived in many places around the world, how have these places influenced your work, and how has it been adjusting to a warm-weather Christmas?
I moved to Sydney to complete a BA in Communication Design, and loved it so much I stayed! I love the cultural diversity, the food, the weather, the nature, and the outdoor culture.  The idea of imposing a Northern Hemisphere Christmas culture to a sunny, 40-degree setting never really made sense to me. I am all for doing Christmas the Aussie way, no fake snowflakes and reindeer lights needed! 

What is your favourite Christmas memory?
In 2021 my mum came out to spend Christmas with us, and it was the first time she was able to meet my then nearly 2-year-old daughter because of the COVID-19 travel bans. When you are not able to see each other for so long is when you realise what a precious thing family is.

And what are your favourite Christmas treats?
Lussekatter and peppermint hot chocolate!

What do you look for in a brand when exploring collaboration opportunities, and do you have any favourite projects?
I look for people who are passionate about what they do and seek to add value to their community with a positive impact product or service.  At the end of last year I was approached by Akademibokhandeln, Sweden's largest chain of bookstores, to create a total of five seasonal campaigns with them throughout 2023. It's been
unreal to see my artworks rolled out across their 100+ beautiful stores. Definitely would have made Mini-Elin at the start of my artist career swoon! I feel very lucky to get to work with such joyous clients, Nomad Chocolate included.
Do you have any new projects coming up?
I have recently created some super fun illustrations for an upcoming Sydney festival called Hot Jazz! Come along — I'll be there with a glass of champagne on a picnic rug!

Always proud to be a home-grown Australian company, Nomad Chocolate is happy to find that very same pride-of-place mirrored in Elin's works, and couldn't be more grateful and excited to spread some Australian cheer this holiday season!
Follow Elin on Instagram at @_elinmatilda