Nomad's Lockdown Survival Guide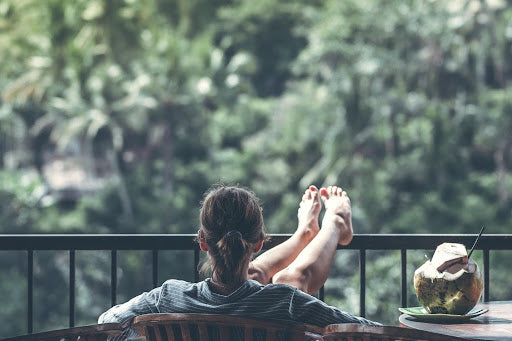 Blog post by Luka Pajkovic
As we all know, Sydney, along with much of Australia, is under lockdown. 

And it looks like it's going to be that way for a while.
Everyone agrees that lockdowns suck; you can't spend time with your friends, you're barely allowed outside, motivation is tough to come by, and boredom seems unescapable.
But now that we've all had a little practice living through lockdowns, Nomad has figured out a few ways to make surviving this latest one a little easier. 
Focusing on mental health and wellness is priority number one, so keep reading to find out how to keep your head on straight now that the world has turned upside down.
Stay In Touch – Digitally
Socialising isn't particularly easy when no one's allowed to spend time together, so replace your in-person activities with digital ones!
Social isolation can be really tough, and in our current circumstances it can be an easy spot to slide into. Make an effort to stay in touch with friends and family by using tools like Zoom and Skype to organise hang-outs and keep in touch with your loved ones.
While things will never be quite the same over video chat – let's just say dates are a little less romantic – maintaining your social life is an essential step to supporting your mental health during lockdown.
So put on a nice shirt, and get your friends online with you; I think it's safe to assume their schedules will be free and clear.
Stay Active
With gyms closed and outdoor activities limited, it can be tough to find the motivation – or the space – to keep up your workout routine, but we all have to be careful not to let COVID become a big excuse to get too lazy.
Physical exercise is one of the best ways to keep you mentally well. It has great stress-relief capabilities, can alleviate depression and anxiety, and will ensure you get a good night's sleep.
The easiest way to keep active during lockdown is to make walking part of your daily routine. An excellent form of cardio, walking is a great way to stay fit and get out of the house. 
Plan a few routes and explore your neighbourhood, or the whole city, by walking the eerily quiet streets.
Journal
It's not an understatement to say things are a little chaotic right now. Isolation is mentally taxing, and it's hard not to feel overwhelmed at times.
Keeping a journal is not only a great way to work through your emotions, but it also invites some creativity into your bubble.
American writer Suleika Jaouad began The Isolation Journals during the initial COVID-19 surge in New York City. By providing weekly journaling prompts this project encourages participants to "reimagine isolation as creative solitude."
Journaling is a great way to relax and manage stress.
Try to write regularly, but don't put any pressure on yourself to fill the pages or follow a specific style or theme; write or draw whatever feels right.
Take a page out of Suleika's book and explore your own stories!
Get Creative in the Kitchen
Saying goodbye to restaurants and dining out may not be easy, but it is an excuse to spice up your own cooking!
Cooking can be a great way to de-stress and add a little excitement to isolation. It's also family-friendly, and a great way to keep the kids occupied with the promise of a tasty reward at the end. 
It's tough to compete with Chocolate Bark when it comes to simplicity and deliciousness, all you need are Nomad Chocolate Buttons, your choice of toppings, and about half an hour. 
While we never need an excuse to enjoy a little bit of chocolate, we're always happy to shout from the rooftops that the occasional indulgence in some high-quality dark chocolate is a great way to relieve some stress and unwind.
Slow Down
It seems like the pace of life is always getting faster and faster. School, work, family; everything piles up and we never seem to get a break from the stresses and stimulations of daily life. 
Add on top of that the stress of the Coronavirus Pandemic and the lockdowns that come with it, and it's obvious that we could all use a little downtime. So, take advantage of all the idle time you'll have now that the virus has stuck us back at home. 
Take an extra-long shower, read another chapter or two, and sleep in if you can. There (hopefully) won't be another opportunity like this to slow things down and spend some extra time enjoying the little things. 

Your heart, and your head, will thank you.