RAW VEGAN CHOCOLATE BROWNIES WITH RASPBERRIES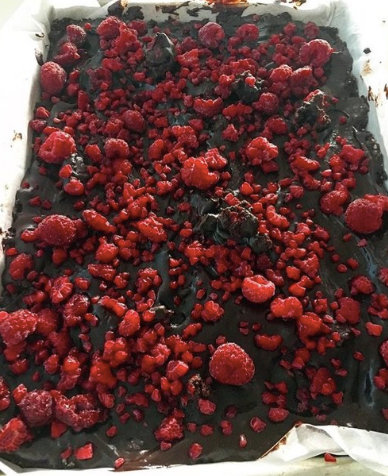 Of all the desserts, brownies have to be one of the toughest to make vegan. The richness of a brownie can be difficult to transfer without butter and that perfect fudgy quality can be hard to reproduce without eggs and milk. When done right, however, a vegan brownie can be even better than a traditional one! This is because they tend to be even more chocolatey and decadent due to their reliance on pure, dairy-free cacao.
The key combination in this recipe is Nomad's Chef's Cocoa Powder and Medjool Dates. These ingredients work together to produce a vegan chocolate brownie that achieves that rich, chewy, gooey-in-the-middle quality that all us bakers are after. 

YOU WILL NEED:
RAW BROWNIE:
1 cup walnuts
1 cup hazelnuts
2½ cups pitted Medjool dates
½  cup cacao powder
Pinch of Himalayan salt
CHOC RASPBERRY TOPPING:
6 tbsp Nomad's Chef's Cocoa Powder
6 tbsp melted coconut oil
4 tbsp of nut butter of choice
2 tbsp raw honey or maple syrup
1 tbsp of vanilla extract
1 cup frozen raspberries
METHOD:
THE BROWNIE:

Chop the dates and soak in the water for 20 minutes
In a food processor, grind the hazelnut and walnuts until fine
Add Nomad's Chef's Cacao Powder and salt and continue to grind
Add bit by bit chopped dates until dense and sticky
Press mixture down firmly onto a square 18cm x 18cm brownie tin lined with baking paper and set aside
THE TOPPING:
In a bowl mix together all your ingredients until well combined.
(it should resemble a thick sauce)
DRESSING THE BROWNIE:
Pour the sauce mixture over the brownie base and smooth out with a spatula
Sprinkle raspberries on top
Freeze the brownies for about 1 hour until set
Once set, cut into squares and serve.
Enjoy!
The brownies can be kept in a freezer for about 4 weeks