COFFEE AND CHOCOLATE TIRAMISU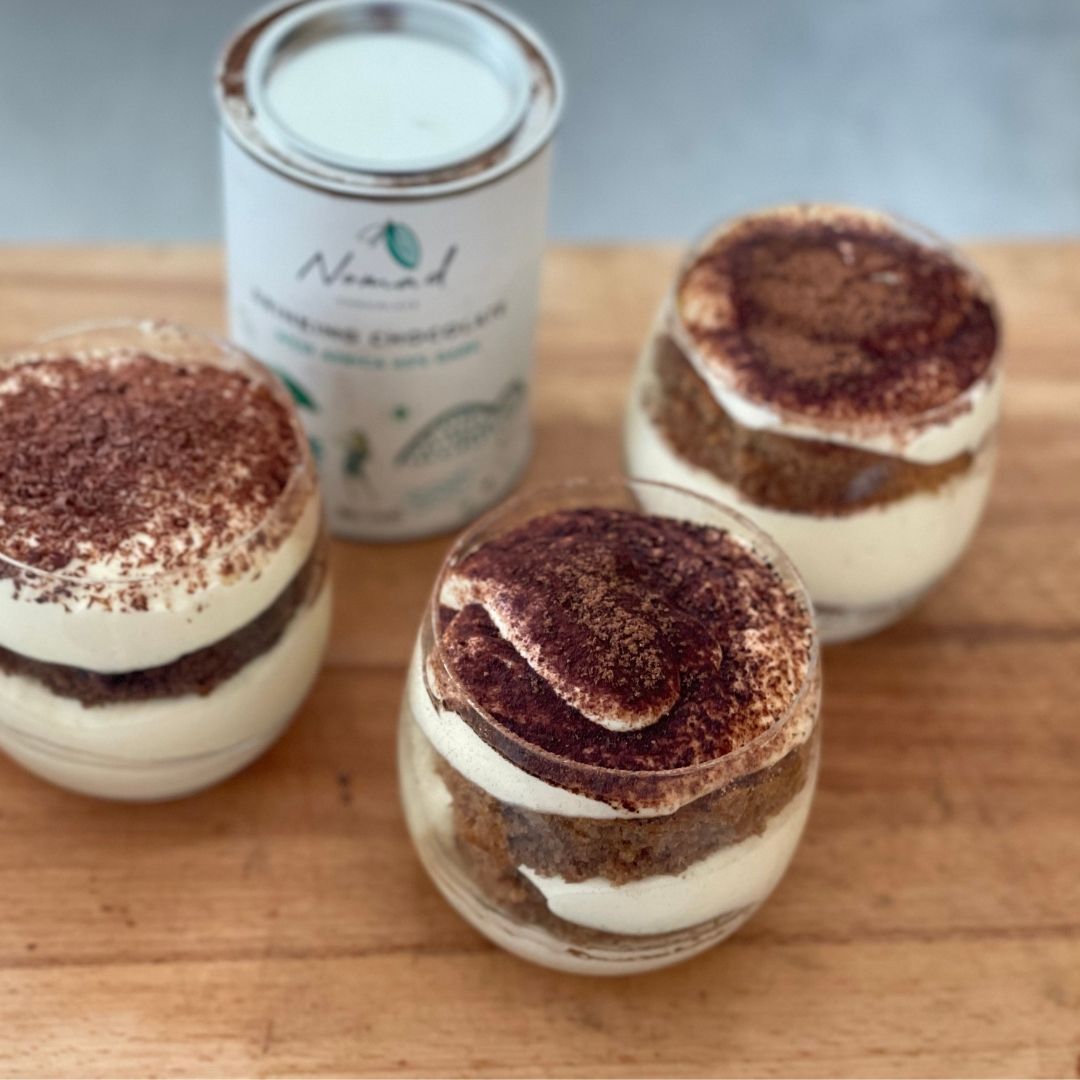 Inspired by Pretty Simple Sweet we have put our own spin on classic chocolate tiramisu. This classic recipe is perfect for a light desert that kids and adults can indulge in together.

YOU WILL NEED
For the filling:
For the chocolate syrup:
For the chocolate ganache:
 1/2 cup (120 ml) heavy cream
METHOD:
Chocolate syrup:
In a small bowl, combine hot water, Nomad Drinking chocolate.Set aside and cool slightly.
Chocolate ganache:
Place chocolate buttons and cream in a medium heat-proof bowl. Set it over a saucepan of simmering water, stirring occasionally. Set aside to cool slightly.
Filling: 
In a large bowl, place mascarpone and vanilla paste and whisk vigorously until creamy and smooth.

In a different mixer bowl, using an electric mixer, whisk together thickened cream and sugar until stiff peaks form.

Fold whipped cream into mascarpone in 2 additions until mixture is smooth.
Assembling tiramisu: 
Spoon a small teaspoon of the mascarpone cream mixture on the bottom of the glass.

Dip ladyfingers very quickly (less than a second) into the chocolate syrup.

Break each one into 4 pieces and place them at the bottom of the glasses (you don't have to use all 4 pieces at once; it depends on the size of the glass.).

Spoon a dollop of the mascarpone cream mixture on top.

Add a thin layer of chocolate ganache, about 1-1.5 teaspoons, on top of the mascarpone cream.

Repeat once more and finish with another layer of mascarpone cream.
Dust the top with drinking chocolate powder or grated chocolate.

Refrigerate for at least 1-2 hours until set. 

Enjoy!
Tiramisu will keep for 3 days in the fridge.