CHOCOLATE ROSE CAKE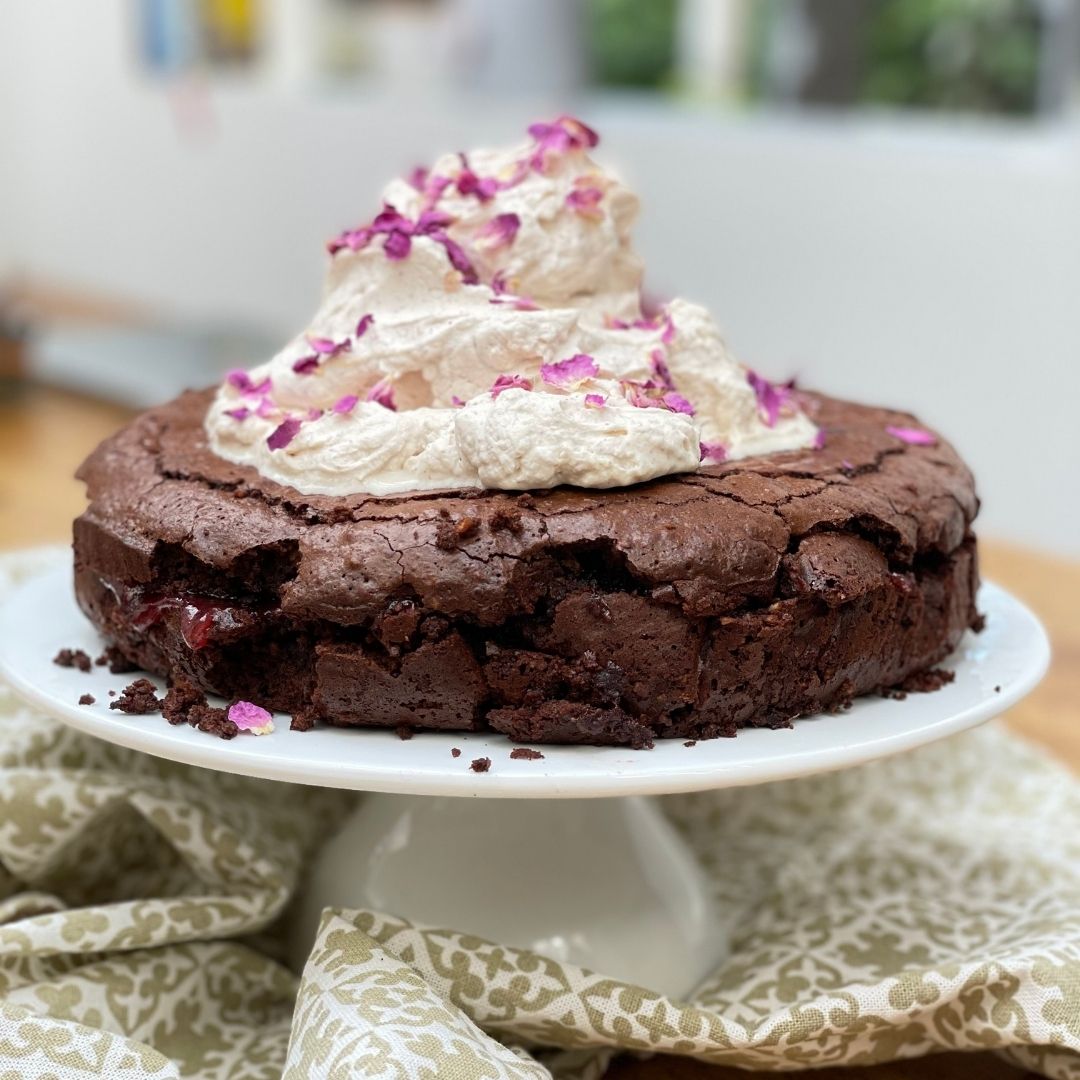 Sophisticated and decadent, this recipe is perfect for chocolate lovers who wish to experiment with new flavours. Here, the aromatic and sensuous qualities of rose are conjured through a variety of ingredients including Nomad's Hot Chocolate with Damask Rose, rosewater, Drunken Sailor Strawberry and Rose Jam and rose petals.
You Will Need
Vanilla rose cream
300 mil thickened cream

2 teaspoons pure icing sugar

1 teaspoon vanilla extract

1 teaspoon rosewater
Method
Preheat the oven to 180°C (160°C fan-forced). Grease a deep 22cm round springform pan; line base and side with baking paper.
Place butter and  Nomad Dark Chocolate Buttons in a large heatproof bowl over a medium saucepan of simmering water (do not allow base of bowl to touch water); stir until butter and chocolate melt and mixture is smooth. Remove bowl from pan; cool for 15 minutes.
Beat eggs, sugar and rosewater in a small bowl with an electric mixer for 2 minutes or until thick and creamy. Fold in Nomad's Hot Chocolate With Damask Rose with the egg mixture. Add  chocolate mixture to the egg mixture and  stir until just combined. Fold in a hazelnut meal and Rose Drinking Chocolate. Pour mixture into the prepared pan.
Bake cake for 40 minutes or until a skewer inserted into the centre comes out clean. Cool cake in a pan.
Vanilla Rose Ice Cream – Beat cream, sugar, vanilla and rosewater in a medium bowl with an electric mixer until soft peaks form.
Cut cake in half and spread strawberry and Rose Jam
Serve cake topped with vanilla rose cream rose petals.
Enjoy!!!