CHOCOLATE PAVLOVA WITH RASPBERRIES AND PISTACHIO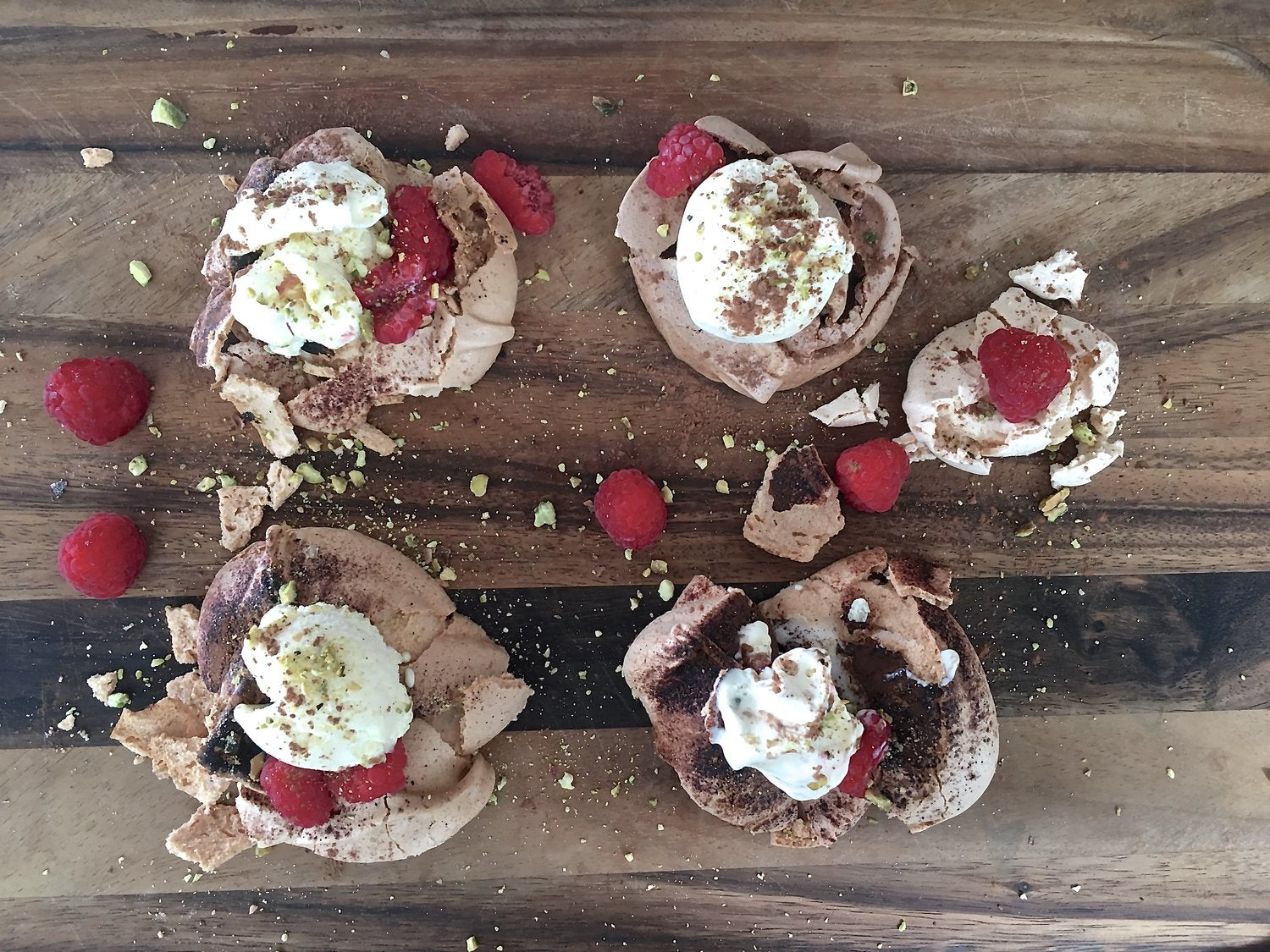 Pavlova is probably the most iconic of all Aussie desserts and for good reason. With its crunchy meringue coating, chewy marshmallow inside, fresh fruit and whipped cream dressing, it is a truly irresistible summertime staple. Luckily for all chocolate lovers, we've given the traditional recipe a cocoa-filled twist. This recipe uses Nomad's Chef's Cocoa Powder, giving the pavlova a unique richness derived from high-quality dark chocolate.
YOU WILL NEED:
4 egg whites at room temperature 
200g cups of caster sugar 
1 teaspoon white vinegar 
pinch of Himalayan salt
2 teaspoon Nomad's Chef's Cocoa Powder
375 ml pouring thickened cream or an ice cream 
20g icing sugar, sifted (optional) 
250g rasberries 
2 tablespoons crashed raw pistachios 
METHOD:
Preheat oven to 120°C (248°F).
Place the egg whites in the bowl of an electric mixer and whisk on high speed until stiff peaks form. Add a pinch of salt.
Gradually add the caster sugar, 1 tablespoon at a time, waiting 20 seconds between each addition.
Once all the sugar has been added, add 1 teaspoon of Nomad's Chef's Cocoa Powder. Gently scrape down the sides of the bowl with a spatula and whisk for a further 5 minutes or until the mixture is stiff and glossy.
Add the vinegar and whisk for 4 minutes or until glossy and combined
Place 6 large spoonfuls of the mixture on a large, lightly greased baking tray lined with non-stick baking paper.
Dust with the rest of the cocoa powder and bake for 50 minutes.
Turn the oven off and leave the meringues in the oven to cool completely.
Place the cream and icing sugar in the bowl of an electric mixer and whisk until soft peaks form.
Top the meringues with the cream mixture or a vanilla ice-cream, raspberries and pistachios to serve. This recipe serves 6.
Enjoy!
Inspired by @donna.hay