CHOCOLATE HOT CROSS BUNS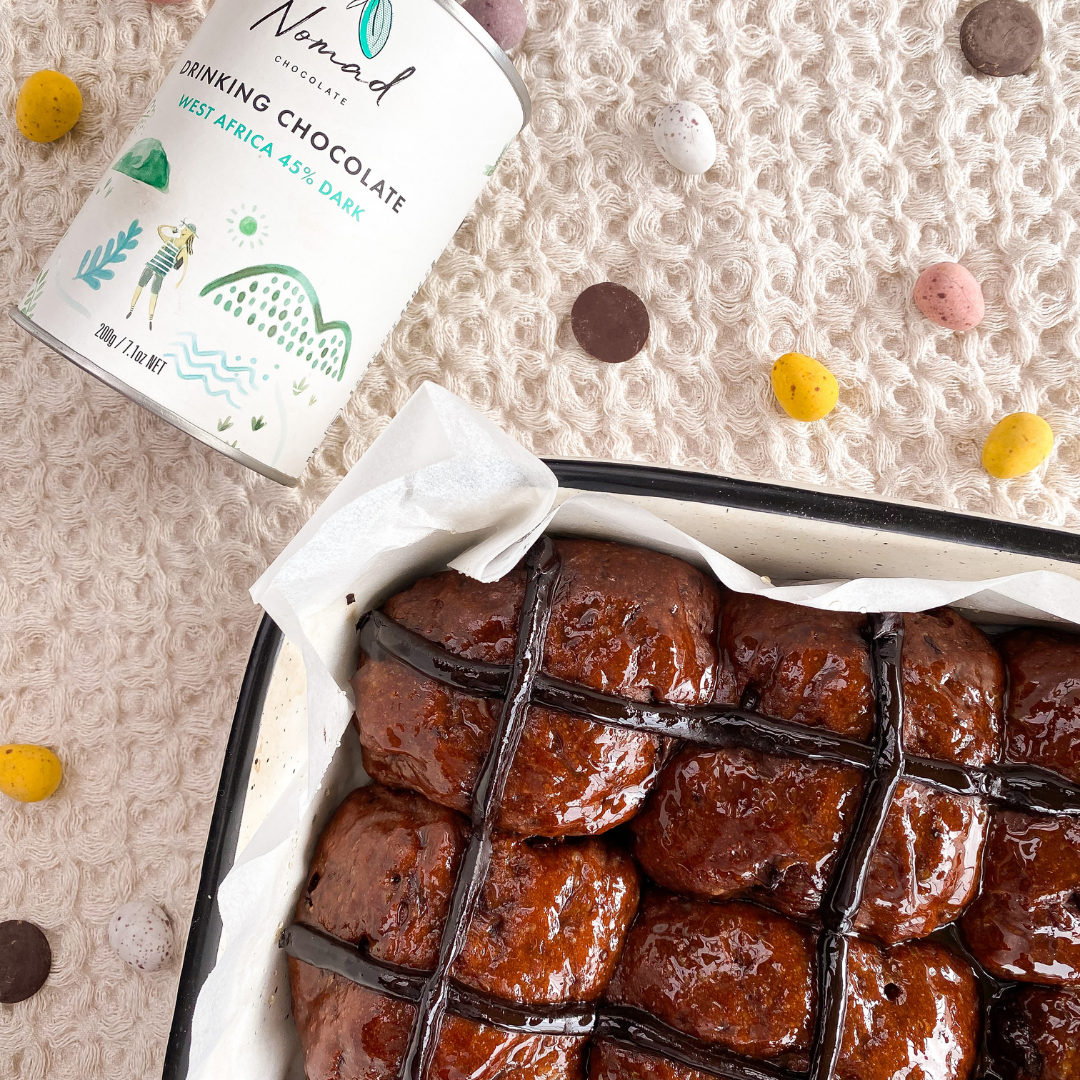 Nomad Chocolate Hot Cross Buns  are doughy, spicy, fruity and delicious. One bit into this classic bake wander created by @_naturally_peachy will send you into food heaven! 😍 Perfect for having fun in the kitchen and baking alone or with loved ones!
INGREDIENTS:
4 ½ cups plain flour 

½ cup Nomad drinking Chocolate West Africa 45% Dark

½ castor sugar 

½ tsp cinnamon 

1 cup Nomad Chocolate Buttons 72%  Dark

Pinch of salt 

1 cup milk 

1/3 cup vegetable oil

½ cup warm water 

2 tsp yeast 

Cross: 1/3 cup Nomad drinking Chocolate West Africa 45% Dark + water

Glaze: 1 tbsp honey + 1 tbsp boiling water
METHOD:
Mix the yeast* into the ½ cup of water in a separate jug and let sit until some air bubbles forming on the surface. 

Combine the plain flour, drinking chocolate, sugar, cinnamon, salt and chocolate buttons into a large mixing bowl. Make a well in the middle ready for the wet ingredients.

Pour milk, vegetable oil and water/yeast mix into the dry ingredients and slowly mix. Do not overwork the dough!

Once ingredients are just combined, cover the bowl with a tea towel and let the dough rest in a warm dry area for 2-4 hours. The dough should double in size.

Slightly knead dough again and you're ready to make your buns. I used a small scale and measured 83g of dough to make one ball. 

Place rolled buns  in the baking dish and cover to let them double in size again (around 2 hours but I did mine overnight).

Preheat the oven to 170 degrees (fan forced). 

Make the cross mix by adding 1 tbsp of water to the 1/3 cup drinking chocolate until you get a thick paste. Pour this into a piping or zip-lock bag and pipe the cross over the top.

Place buns in the hot oven for 25 mins. Allow them to cool in the baking dish and glaze with the honey and boiling water. 
My favourite way to enjoy these hot cross buns is by slicing in half, toasting them and putting a small spread of butter over the top. YUM!
*Yeast measurements may differ depending on the brand you use.