CHOCOLATE BUTTERMILK CAKE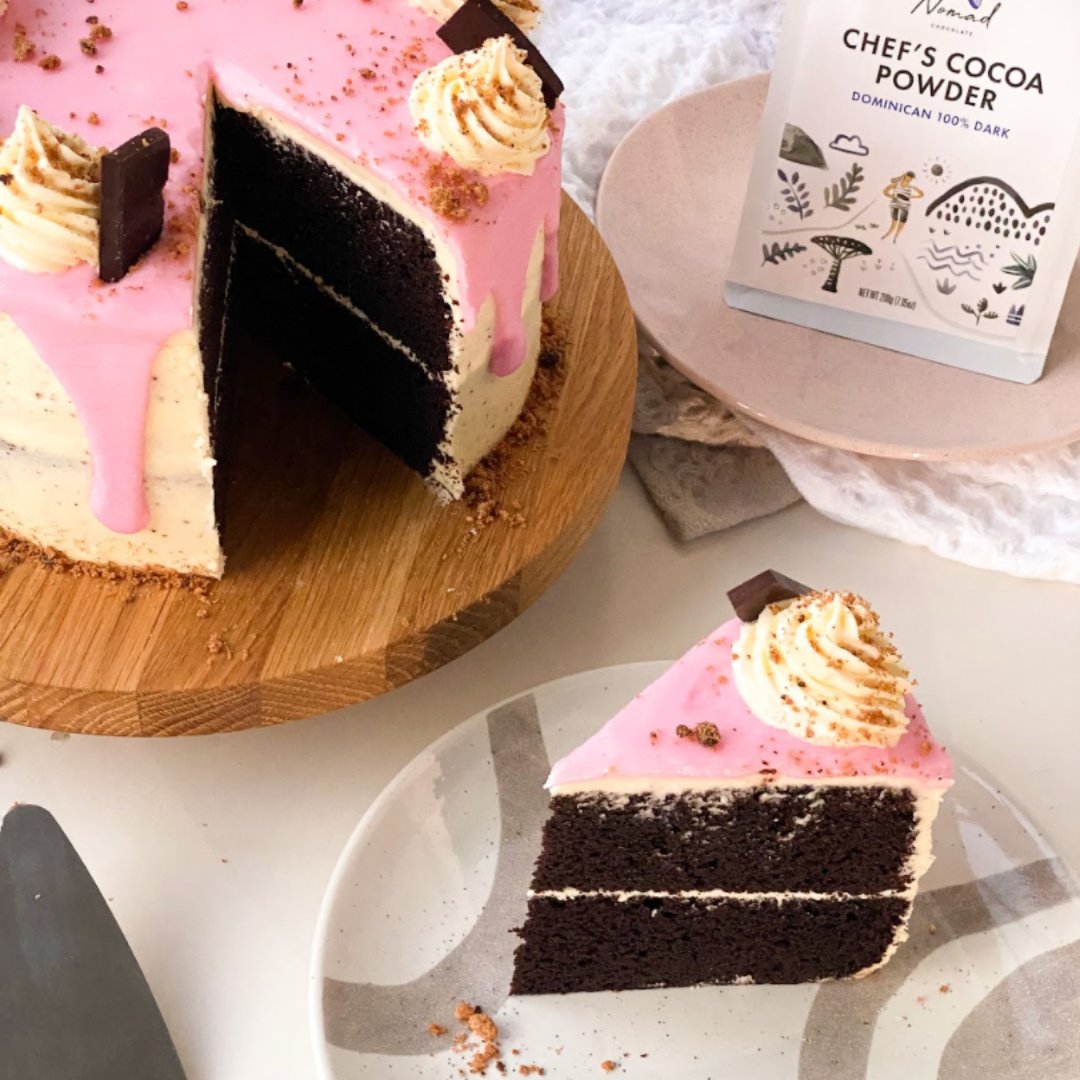 Old- fashioned chocolate buttermilk cake perfect to winter days or as a surprise on Mother's Day.
You will need:
2 cups plain flour
½ cup Chef's Cocoa Powder
½ cup caster sugar
1 tsp baking soda   
½ tsp baking powder
Pinch of salt
3 large eggs
150g unsalted butter
½ cup buttermilk
1/3 cup Nomad chocolate buttons
½ cup boiling water
 *To make a two-tiered cake just double all the ingredients and make two separate cakes.
Method:
Preheat oven to 160 degrees (fan forced). Grease and line a round baking tin with baking paper.
Using a large mixing bowl and electric beaters, mix the butter and sugar until the butter has turned into a very pale white colour. Next add in your eggs and buttermilk and combine using a wooden spoon until smooth.
Sift in your plain flour, cocoa powder, sugar, baking soda and powder and salt. Slightly combine into the butter, sugar and egg mix.
Now combine your chocolate buttons with the ½ cup of boiling water into a separate bowl and mix well. The buttons should all melt into the water creating a smooth chocolaty mix. Pour this into the cake mixture and fold until all is combined. The mix will seem a little runny but this is perfect for the cake we are trying to create.
Pour the mixture into your baking tins and bake for 50mins or until a skewer comes out clean. Allow the cakes too cool on a wire rack.
Icing: Beat 150g of unsalted butter, around 300g icing sugar and a splash of warm water.
Decorate: I combined some icing sugar with water and pink food colouring. I piped some icing swirls and broke up some of the Ecuador Amazon 65% dark chocolate bar and sprinkled some biscuit crumble on top.