Sustainability at Nomad Chocolate – Earth Day 2023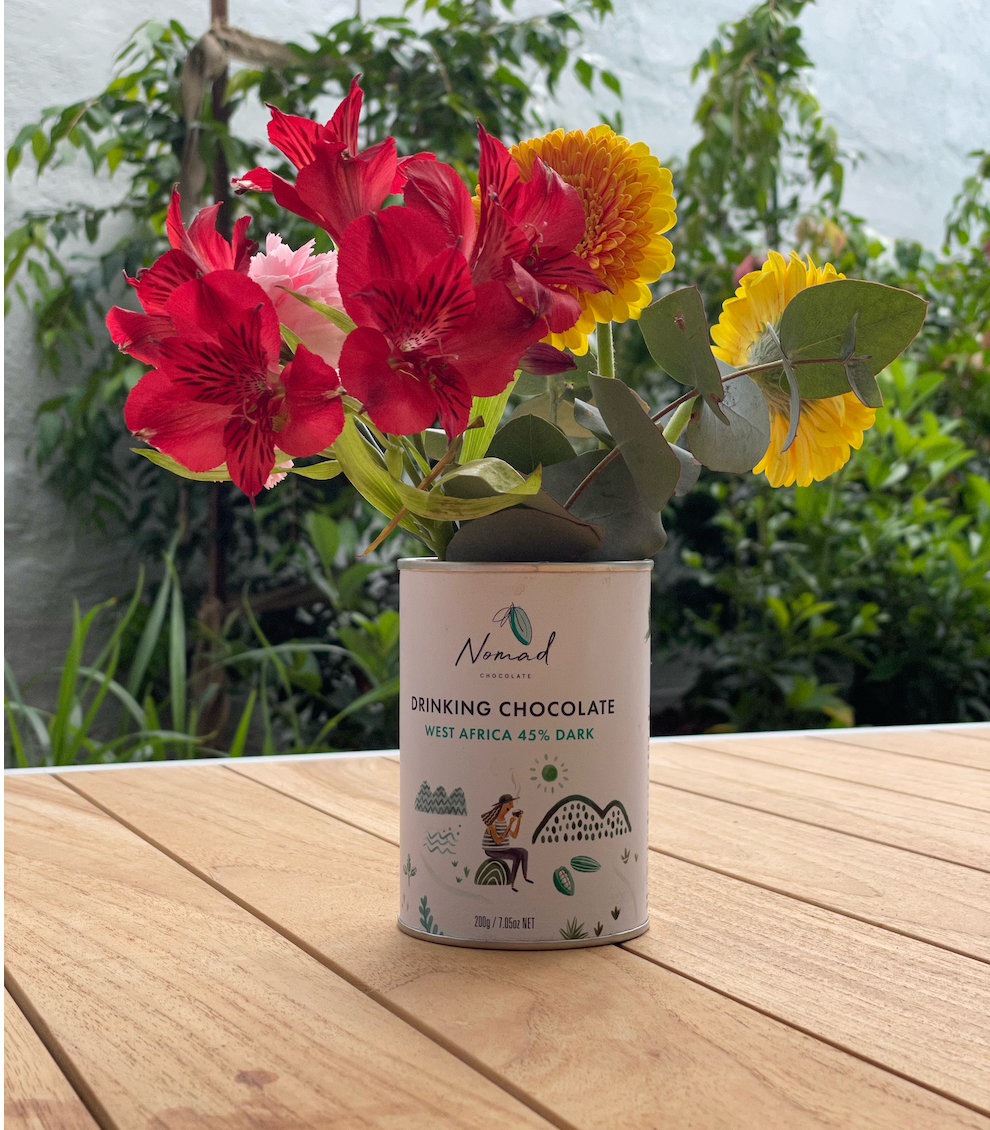 At Nomad Chocolate, we strive to showcase the timeless enchantment of chocolate in its purest form. This mission has taken us on a global journey in pursuit of the finest ingredients, and it has left us ever-grateful for the Earth that provides them.
This Earth Day, we want to say thank you to planet Earth, and share with the world how we're doing our part!

Vegan and Plant-Based Products
There is no overstating the environmental damage that animal rearing and farming cause, including extreme water use, deforestation to provide pastures for a growing number of animals, and the enormous amounts of waste that they generate. Grazing land also leads to habitat destruction and fragmentation. This loss of habitat can have significant impacts on wildlife populations, which can affect entire ecosystems and harm biodiversity.
Vegan chocolate, which Nomad makes with pride, eliminates the negative impacts of animal agriculture. Traditional chocolate often contains milk, and the cows that produce it require large amounts of land, water, and feed to produce.
This Earth Day, celebrate and say thank you with a couple meat-free or vegan meals to take some of the load off Mother Earth, and follow it up with some delicious dark chocolate!


Packaging and Production

Here at Nomad, we package all of our drinking chocolate in biodegradable tins, and use recyclable packaging for our chocolate bars.
Nomad also keeps its production local, most of it done within Australia. This reduces the emissions that come from material transport, which can be enormous and damaging to many facets of the environment.
These emissions contribute to excess greenhouse gas emissions which trap heat in the atmosphere, and pollute the air we breathe. Keeping production local helps offset emissions and minimises environmental impact.

So, next time you're enjoying a cup of hot cacao, you can rest easy knowing that, from start to finish, it has sustainability in mind!

In Our Community
Sustainability also applies to the communities that we live in, and Nomad Chocolate is a proud partner of OzHarvest, an organisation that collects high-quality surplus food and delivers it to national charities free of charge.
Food waste is a serious concern around the world  and in Australia, where we waste 312kg of food per year, per person. 

This of course also impacts the environment in other ways. Wasted food accounts for 3% of Australia's greenhouse gas emissions, and 2600 gigalitres of water per year is used to grow food that is eventually wasted.
For perspective, 2600 gigalitres is enough to fill Sydney Harbour – five times.
By partnering with OzHarvest, we're doing our part to reduce food waste to support our community, and the environment.
I think that calls for a well-deserved treat!
How to Help, Year-Round

The Earth is here for us every day, so let's be there for the Earth just as often!
There are plenty of things that you can do in your day-to-day to reduce your impact on the planet.
Join forces with your friends and neighbours to create a walking or cycling group to reduce your carbon footprint and get some exercise, you'll have a blast exploring your city in a whole new way! 
Make a habit of continuing education on the environment and sustainability, watch the occasional documentary, keep an eye on your consumption, and do what you can!
Composting is an easy way to reduce waste at the source, and it can enrich soil with nutrients to help your garden flourish. Cleaning up your local beach or park is a great way to eliminate waste and beautify your community at the same time.
Decluttering your home and giving away your belonging to charities like Dress to Success or The Smith Family. 
So, let's keep the good times rolling all year round by making sustainable choices, having fun with our community, and showing Mother Earth some love!
 Nadja xx