Nomad Christmas Gift Pack – Now Available!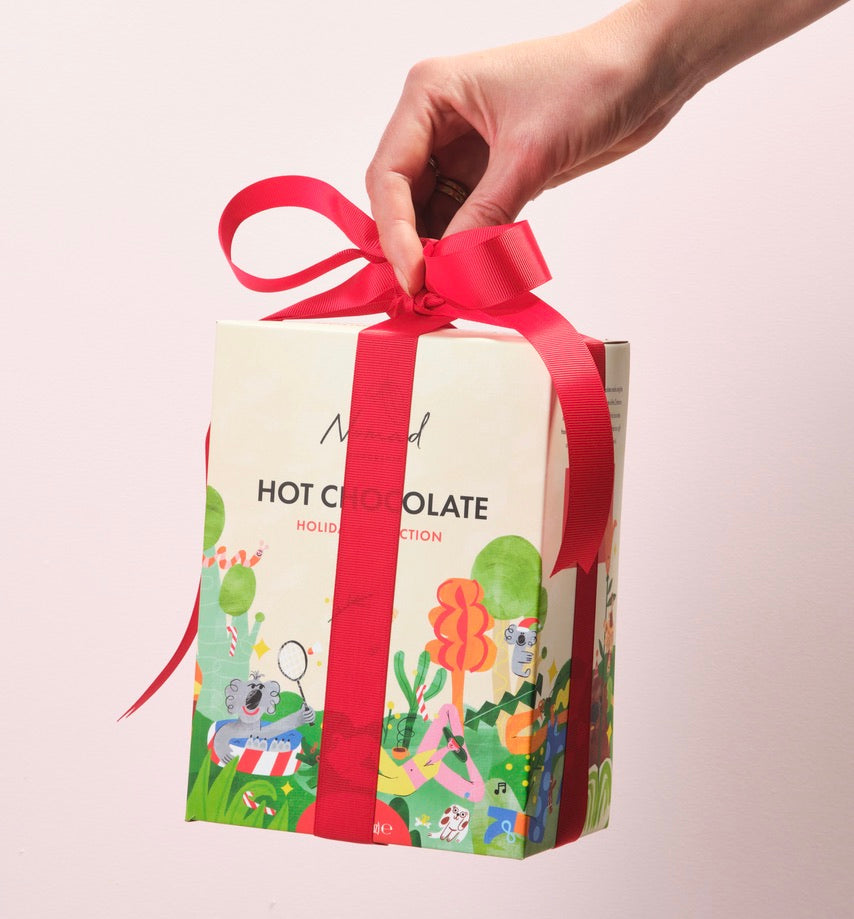 Christmas is almost here! But, before you start to panic, you can rest assured that Nomad has you covered for all your gifting needs this year.

Now announcing Nomad Chocolate's limited edition Christmas Gift Box!

Collecting all of your favourite holiday hot chocolate flavours, The Christmas Gift Box is sure to please, and it is beautifully encased in artwork by Nomad Collaborator Elin Matilda Andersson! Inspired by the unique experiences of Australian Christmas, Elin's artwork reflects exactly what makes Christmas in Australia so special.
Showing off some lush vegetation, a few furry friends, and of course Australians' natural ability to take the party wherever we go, this is a gift that's sure to strike a chord with anyone who's celebrated Christmas – the Australian way!

Hot Chocolate Peppermint Candy
It wouldn't be Christmas without candy canes, but before you pull one off the tree, reach for a cup of Nomad's Peppermint Drinking Chocolate.
Giving you the perfect balance of soft cacao and crispy peppermint candy, it's the perfect way to recover after a big day of celebration.

Hot Chocolate with Gingerbread Spices
Few things scream Christmas like gingerbread, and it only gets better when combined with the rich cacao of Nomad's drinking chocolate.
Delightfully sweet with a hint of spice, Nomads Gingerbread Drinking Chocolate is the perfect indulgence during the holidays, and is a sure-fire crowd-pleaser.
Hot Chocolate Classic
Of course, there is no way to overlook the beautiful simplicity of Nomad's Classic Drinking Chocolate. At 35% cacao powder, our Classic Drinking Chocolate allows for subtle notes of maple and vanilla to come to the forefront; a perfect gift for the cacao connoisseur.