7 Indulgent Gifts for this Christmas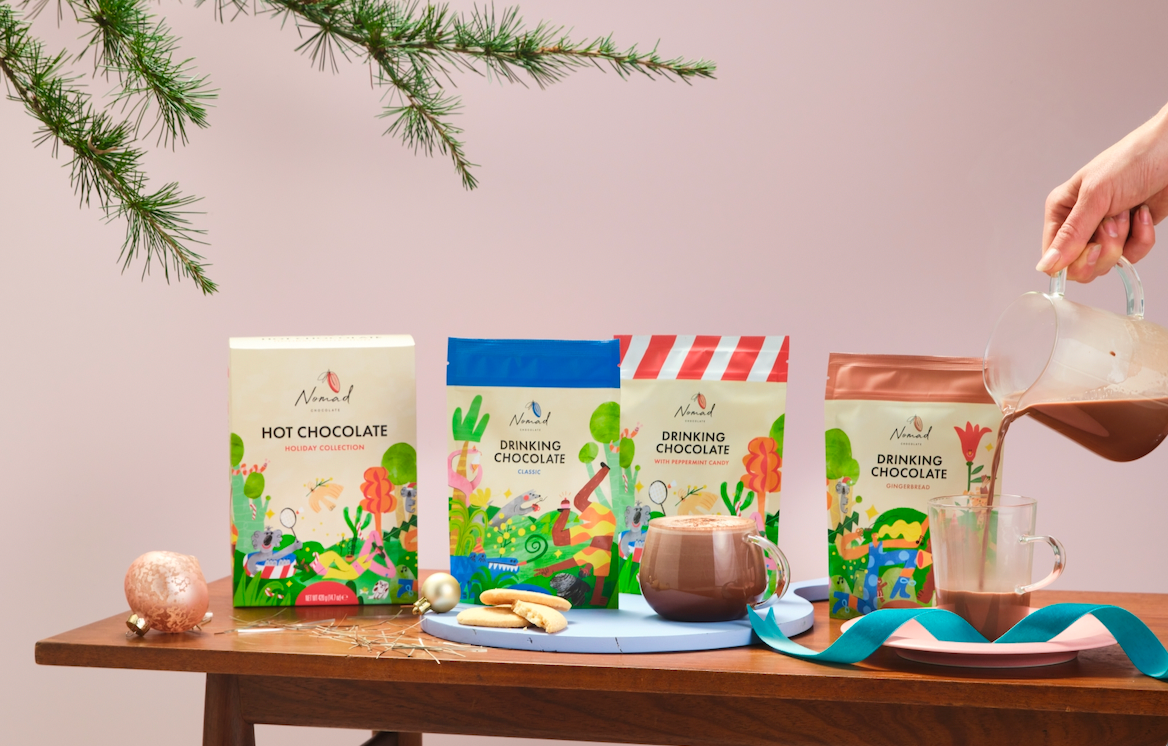 Welcome to our curated selection of holiday gifts that are sure to delight even the most discerning palates. Whether you're looking for a thoughtful token of appreciation or a grand gesture, Nomad has got you covered. Get ready to explore a world of indulgent holiday delights that are bound to leave a lasting impression.
$20 - Stocking Filler
Deliciously dainty, this pack of Mini Hot Chocolate flavours is the perfect stocking stuffer, and is a miniature treasure trove of cocoa-infused wonders. A perfect embodiment of the holiday spirit, it's the perfect gift for teachers, or split up and spread around to friends, coworkers, and casual acquaintances!
$25 – Secret Santa Gift Pack
A Christmas tradition, Secret Santa is a playful way to celebrate the season with friends and family. To make things even simpler, Nomad has prepared a pack of hot chocolate flavours, pairing our West Africa Dark and Bondi Blend with classic Christmas flavours Peppermint and Gingerbread Latte. 
Focusing in on our classic Christmas flavours, Peppermint Candy and                  Gingerbread Latte, this is the perfect gift for anyone with a sweet tooth! Christmas is also a time of coming together, and the Christmas Joy Pack makes the perfect hostess gift to ensure a post-meal indulgence for every guest at any dinner-party or friendly gathering!

$35 – Limited Edition Gift Box
Collecting all of your favourite holiday hot chocolate flavours, The Christmas Gift Box is beautifully encased in artwork by Nomad Collaborator Elin Matilda Andersson! Inspired by the unique experiences of Australian Christmas, this gift is perfect clients, close friends, or even yourself!

$50 – The Sweetest Hot Chocolate Gift Pack
The Sweetest Hot Chocolate Gift Pack is the perfect way to show appreciation for Mom for a favourite Aunty! The combination of a beautifully designed mug from Robert Gordon, and a selection of hot chocolate flavours adds a touch of warmth and comfort to their daily routine.

$55 – Hug in a Mug Gift Set
Dive into the Christmas spirit with this gift set, perfect for any chocoholic or festive fanatic in your life! A beautiful Robert Gordon mug combined with 200g of our Peppermint Candy, West Africa 45% Dark, and 40g of Gingerbread Latte drinking chocolate this set is sure to keep the sweet tooth satisfied all through the holiday season.
$65 – 12 Days of Christmas
Stretch out the Christmas cheer with the 12 Days of Christmas Gift Set! This collection of hot chocolate flavours provides the perfect pick-me-up for every day leading us to Christmas, and combines classic flavours like Mocha Latte with unique indulgences like our Damask Rose and Australian Natives drinking chocolates.
Happy shopping
Nadja xx