ROSEMARY CHOCOLATE COOKIES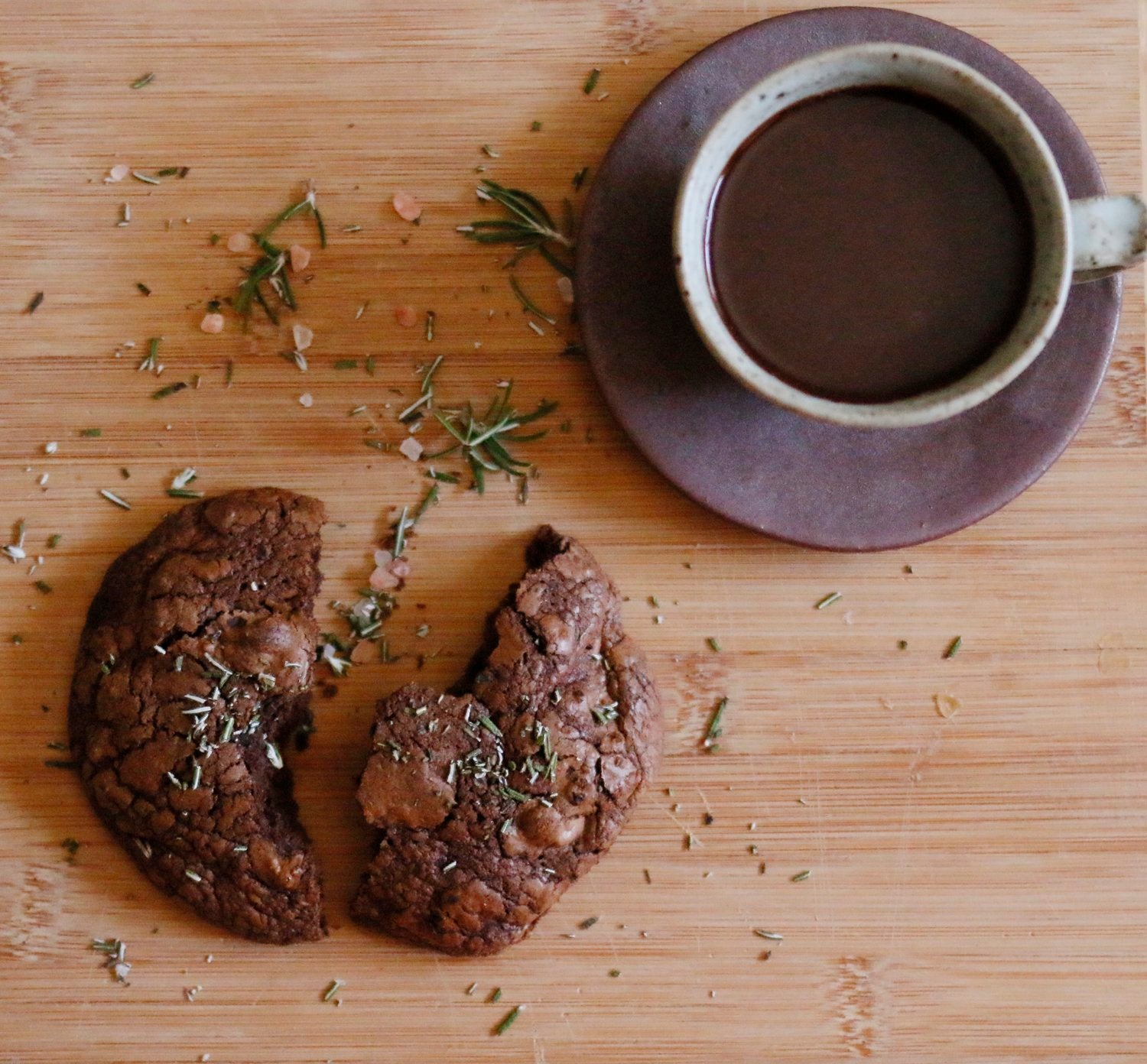 These chewy, salty, extra-chocolatey cookies are infused with fresh rosemary, making them the ultimate Christmas-time dessert! We know rosemary may not be the first ingredient that comes to mind when thinking about what goes into great baked goods, but in this case, this truly unique, aromatic ingredient gives these chocolate cookies a refreshing ever-green flavour that is perfect for the holiday season.

YOU WILL NEED:
1 ¼ cup all-purpose flour
¼ cup Nomad's Chef's Cocoa Powder
1 tbsp baking powder
1 tbsp Himalayan Salt
3 ½ cup 66% dark chocolate, chopped in large pieces (divided)
4 large eggs
1 tbsp vanilla extract
1 tbsp espresso powder or your favourite freeze-dried coffee
½ cup unsalted butter, softened
1 ¾ cup light brown sugar
1/5 cup granulated sugar
1 tbsp rosemary, chopped (divided)
METHOD:
Sift together flour, cocoa, baking powder and salt.
Melt 2 cups of the chocolate in a double boiler or gradually in a microwave, add 1 teaspoon of the rosemary to the melted chocolate to infuse the flavours.
Beat eggs with espresso powder and vanilla extract.
Beat butter with electric mixer at medium speed until smooth and creamy, about 5 seconds.
Beat in sugars until combined about 45 seconds; mixture will look granular.
Set electric mixer to low and gradually beat in egg mixture until incorporated about 45 seconds.
Add melted infused chocolate and remaining 1 ½ cups of large chopped pieces in a steady stream and beat until combined, about 40 seconds.
Scrape bottom and sides of bowl with rubber spatula. With mixer at low speed add dry ingredients and mix until just combined. Do not over-beat.
Cover with plastic wrap and let stand at room temperature until consistency is "scoopable" and like fudge, about 30 minutes.
Meanwhile, pre-heat oven to 350ºF. Line 2 baking sheets with parchment paper or a non stick baking sheet.
Scoop cookies with a small (#24) ice cream scoop. Place 8 cookies on each tray. Sprinkle with remaining rosemary.
Bake, reversing position of the baking sheets halfway through baking (from top to bottom and front to back), until edges of cookies have just begun to set but centres are still very soft, about 10 minutes (check at 5 mins).
Cool cookies on sheets about 10 minutes.
Enjoy!
Inspired by @jackiekaiellis