FUDGE BROWNIE CREAM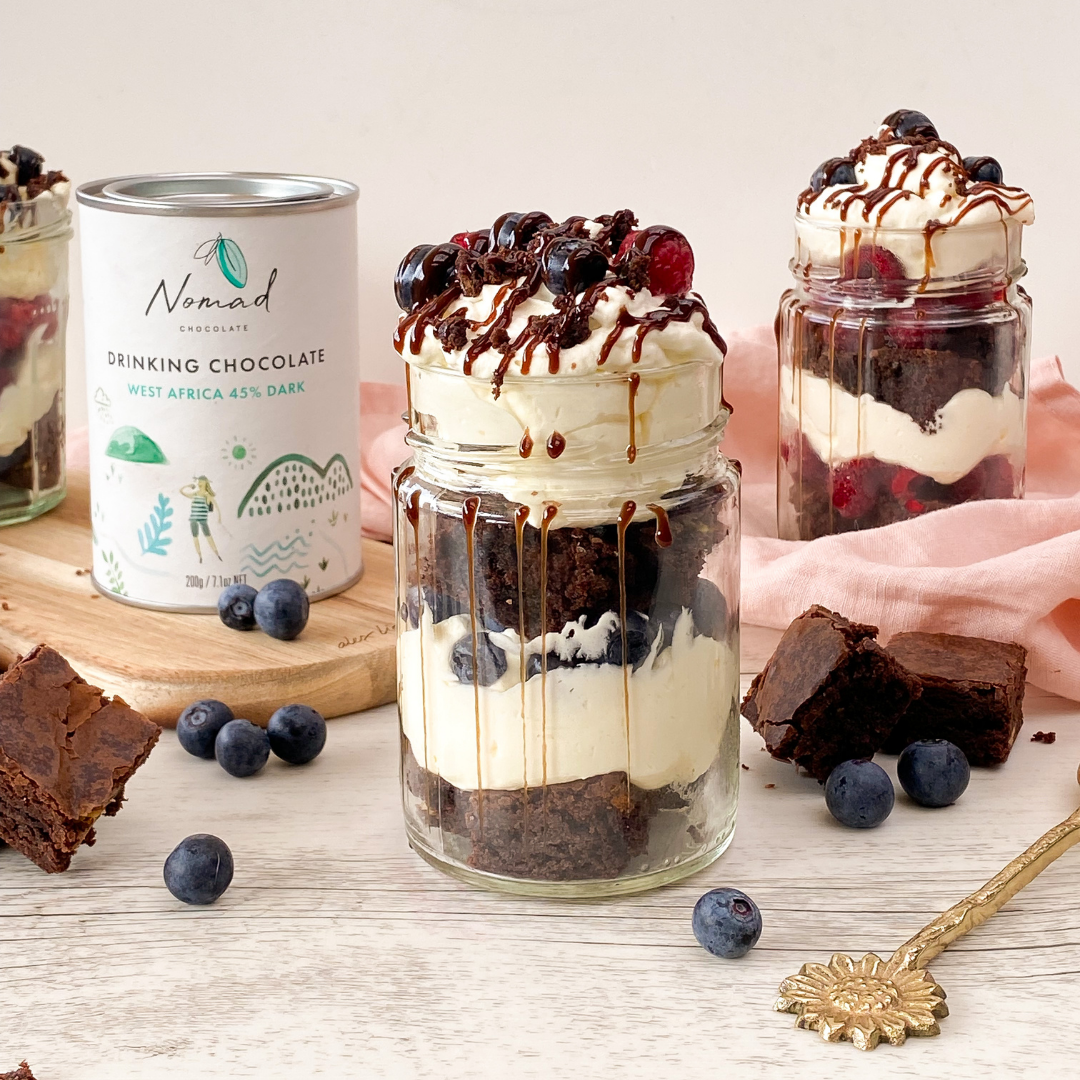 A moist and chocolaty raspberry Valentine cake filled with chocolate brownie, raspberries and covered with soft cream.
Created @_naturraly_peachy
You will need:
125g soft butter

½ cup caster sugar

2 large eggs

75ml milk

1 tsp vanilla essence

1 cup Nomad Chocolate West Africa 45% Dark

½ cup plain flour

pinch of salt

½ cup Nomad Chocolate Buttons 72% Dark

150ml of thickened cream

½ cup of fresh blueberries or raspberries
Method:
1. Preheat the oven to 160 degrees (C), lightly grease the baking pan (20 x 20 cm) and wrap the pan in tin foil, to prevent water leaking in when baked in water bath.
2. Beat the butter using an electric mixer for 2-3mins then add in the sugar and beat for another 2mins.
3. Add eggs, milk and vanilla and beat until just combined.
4. In a separate bowl combine 1 cup of Nomad Chocolate West Africa 45% Dark, flour and salt. Make a well in the middle and add in the butter mix. Using the electric mixer, mix for 1-2 minutes. Fold in the chocolate chips.
5. Add your brownie batter into a baking dish.
6. Place the brownie pan into a large, deep pan. Fill the pan up with 3 - 5 cm of hot water. This is your water bath and will help ensure your brownie stays moist and doesn't dry out in the baking process.
7. CAREFULLY place the pan in the oven and bake brownies for 30 minutes. I
8. Take out of the oven and let cool in the baking dish for 5 mins. Then take the brownies out of the dish as it will continue to cook so simply place them on a cooling rack.
9. Cut into bite size pieces.
10. Whip thickened cream.
11. To make chocolate sauce, add 60g of Nomad Chocolate West Africa 45% Dark to a small jar, add 80ml of boiling water. Stir until combined.
12. Layer a glass jar with brownies, cream, raspberries or blueberries. Repeat the process until the glass is full. Top up with extra cream and chocolate sauce.
13.. Enjoy!