The Power of Indulgence: Why your cheat day shouldn't feel like cheating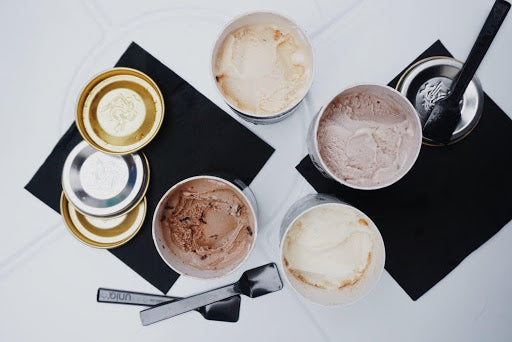 Blog post by Luka Pajkovic

We've all been there: a couple weeks – or days! – into a new diet, when the cravings for something sweet start to take over. 
While the point of adjusting your diet is usually to cut out those less-than-healthy foods, or work towards a particular body or weight goal, it's pretty easy to admit that eating healthy isn't always a welcome change. 
There's only so much kale one person can eat. 
But it turns out that those cravings your feeling might actually be pointing you in the right direction, and that listening to them every once in a while will actually do more good than harm!
Treating Yourself is Good!
The American Psychological Association has found that when people choose their dessert before their meal, or know that they will be indulging in something post-meal, they actually choose healthier and lower-calorie meals to compensate. This decision actually leads to an overall decreased calorie intake. 
Occasionally indulging in your favourite sweets and treats also predicts more long-term success with dietary changes, as things are easier to stick to when you're not denying yourself everything.
It sounds like planning your evening around dessert may be a winning strategy!
Treating yourself to the occasional treat also releases feel-good chemicals in your brain, which can help you unwind after a long day, sleep better, and improve overall mood. Research has also shown that the human body faces no long term effects from the occasional indulgence, so your left with nothing but the warm and fuzzies.
Indulge With Nomad
When we consider the daily responsibilities of work, school, family – the stresses of life – we think everyone deserves a little something special!
And now that we know the occasional treat is actually good for us, Nomad has a few recommendations to keep you happy and healthy:
Hot Chocolate – West Africa 45% Dark
This rich and luxurious hot chocolate is made from West African cacao, and creates a drinking chocolate that maintains the cacao's natural sweetness while inviting delicate notes of mountain maple and vanilla to the forefront. 
Mix with warm milk to create a cup of instant relaxation and melt your stress away. Wrap yourself around a steaming mug on a cool evening or wake up with a cup of sweet chocolate as a replacement for your morning coffee.
Our West Africa 45% Dark drinking chocolate is also 100% vegan.

Single Serve Rich Chocolate Cake
Nothing screams indulgence like a rich slice of chocolate cake. This recipe from Dianna Lepore has everything you'll need to cover all your cravings. 
Exceptionally easy to prepare, this recipe uses just a handful of ingredients to create a decadent cake with a delicious chocolatey center. The single serving size also makes it easier to avoid taking that extra bite or ten.
With an impressive dose of both fiber and protein, this tasty treat can be an easy post-workout pick-me-up. 
When it comes to tasty treats, few things quell cravings like a good piece of chocolate. Take things to the next level with Nomad's Matcha Dark Chocolate Bar.
Made from specially grown and processed green tea, matcha is a finely ground powder that adds its own notes of sweet, vegetal flavour to the already impressive profile of Ecuadorian Esmeraldas cacao. 
The Matcha Chocolate bar is a tasty twist on dark chocolate that you can get lost in; and matcha has just enough caffeine to give you an extra boost after a long day.